Guitar Setups & Servicing Cheltenham
Your guitar will benefit greatly from a regular setup
Complete Service & Setup Package / Cost £50.00
Our "Complete Service & Setup Package" is for all types of guitars and includes the following:
Complete clean and polish of all hardware, body and neck, including fretboard and frets.
Check all electrics for any issues including wiring, pots, switches and pickups.
Setup of action, including adjustment of Nut, Neck relief, Tremolo/Bridge/Saddle(s) and Intonation etc.
A set of new quality strings. This is included in the price, however you are welcome to supply your own.

From a bedroom enthusiast to a professional musician, it's important that your guitar is setup correctly to get the very best from it.
A guitar setup, service & tune can do wonders for your guitar's playability and performance, there's nothing worst than a over high playing action, buzzing and intonation issues. Whatever music you like to play, from blues to shred power metal, we can setup your guitar accordingly to your specification and requirements.
Problems as diverse as tuning difficulty can often be remedied by a setup.
Our range of guitar setups and servicing include: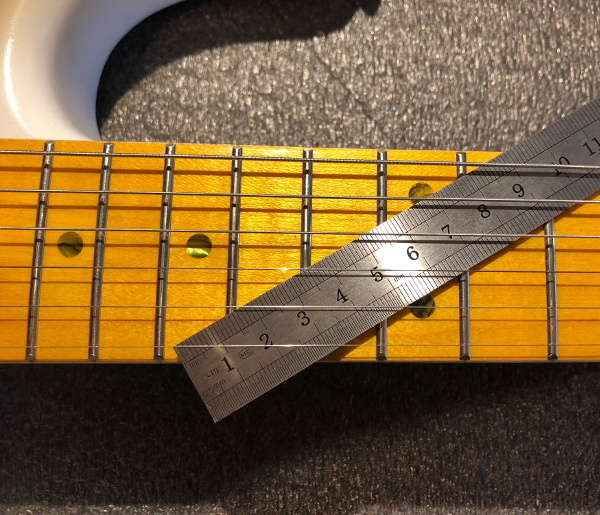 Setup & Tune
Restring & Tune
Bridge & Saddle Adjustment
Set intonation
Tremolo Bridge Adjustment
Floyd Rose Tremolo Adjustment
Pickups & Fretboard
Pickup Height Adjustment
Neck Relief / Truss Rod Adjustment
Fret Leveling, Crowning & Polish
Neck & Headstock
Nut Height Adjustment
Nut Slots Adjustment
Guitar Strings
We stock the following types of electric guitar strings and also keep Acoustic, Classical & Bass.
You are of course welcome to bring your own…
"I just go where the guitar takes me" Angus Young
Guitar Setups Cheltenham Guitar Tuning Cheltenham, We do Fret leveling, Guitar tuning Repair, Setup & Service Guitars. Damage Repairs