We offer a complete body-neck respray service using nitrocellulose finishes. When complete the finish is hard and tough. A full refinish can be a long process due to the labour needed in the preparation for paint and the curing time of the lacquer, so the average turnaround time is 3-4 weeks depending on the complexity project.
We pride ourselves on offering accurately-matched custom colours, specialising on the vintage guitar colours of the 1950's and 1960's.
Here is a quick guide and price to a typical project like a refinish on a Stratocaster or Telecaster:
Guitar dropped off in one piece
Guitar stripped of all hardware and neck removed.
Body sanded back to wood and repairs made to dents and screw holes where required
Body premiere applied (involves additional sanding and coats)
Body finish applied and polished (involves additional sanding and coats)
All hardware cleaned including electrics, bridge, neck, frets and tuners etc
Reassemble everything
Complete Setup.
Final testing.
Sanding / Natural Wood
Its not all about paint spraying. We offer a body sanding service too, which will remove the old finish and then we can oil / stain as required. The natural finish and look fantastic and lets face it wood is beautiful!
For more information, please get in touch for a comprehensive quote on our refinishing services.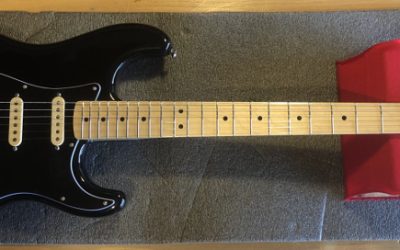 Fender Stratocaster 1972 Project, Complete Rebuild Strat USADavid Gilmour Stratocaster 1972....The owner of this guitar, dropped it off with us and it was in a bad old state. The client had owned it from new in 1972 and it had been sprayed many times in various...
read more
Guitar Refinishing Cheltenham, Guitar Respray Cheltenham, Guitar Painting Cheltenham. Guitar Spraying Cheltenham